Mixing metals in fashion is one of the debates that have been circling through the industry for many decades. With so many different advice, opinions and rules out there, it can get a little overwhelming to say the least.
This is why we have created this guide to get you inspired and confident in mixing metals that originally wouldn't have gone together. It's also great to know that nowadays, individual style and unique looks where the norms are broken are normally favoured when done tastefully.
Sometimes, however, it's good to get an idea of what goes well in terms of mixing metals so you can get a contemporary view on how to pair your accessories. This way, you can truly get the best from your designs whether you're mixing copper with clean golds or not.
Looking to upgrade your current collection? Checking the items on some jewellery shops can give you the fundamental silver bangles, earrings and necklaces you need. Once you have the foundation pieces, you can then build and grow your collection, mixing more adventurously than ever before.
How to Create Different Jewellery Looks With Mismatched Metals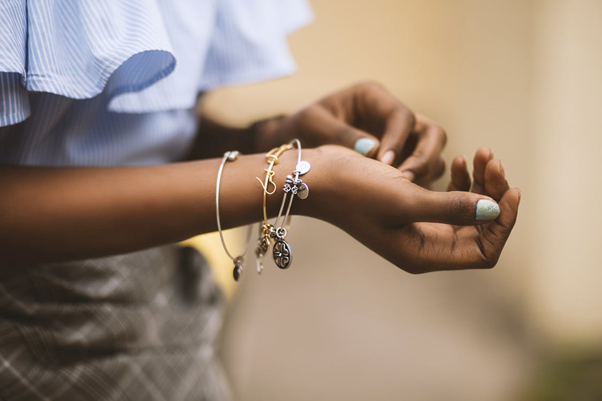 1. Keep it simple.
When we say keep it simple, you will normally be wearing at least a couple of varying metals on your outfit at one time. For example, think of a belt or a buckle on your shoe. Instead of looking at the picture at a whole, simply focus on the accessories yourself and creating looks with different metals in that arena first and foremost. Also, if you have engagement, eternity or wedding rings, they don't need to match with these either.
2. Coordinate with purpose.
The metals you choose shouldn't be just jammed together with little or no thought. Remember that badly chosen styles will not complement each other. Moreover, it's key that when you mismatch gold with silver jewellery, for example, that you keep it minimal. Also remember to get creative in terms of sizes and shapes when mixing and matching. These can create their own works of art without you having to put in much effort.
3. Always layer.
Layering and stacking will go a long way when you have different metals together. For instance, if you have multiple bracelets that are all the same metal, then it's a good idea to mix in a couple of other metals that complement them. The same can be said of rings, don't just stack silver rings but mix in some rose gold and platinum too. Therefore, you keep adding interesting and variety to your look.
There are plenty of ways you can take the matching of mismatched metals when it comes to your jewellery looks. Ultimately, you decide. However, this guideline should point you in the right direction if you ever need inspiration.